Fitness / Trekking
A fitness bike offers you the freedom to achieve any aim – it is only your fitness that restricts you, not the bike!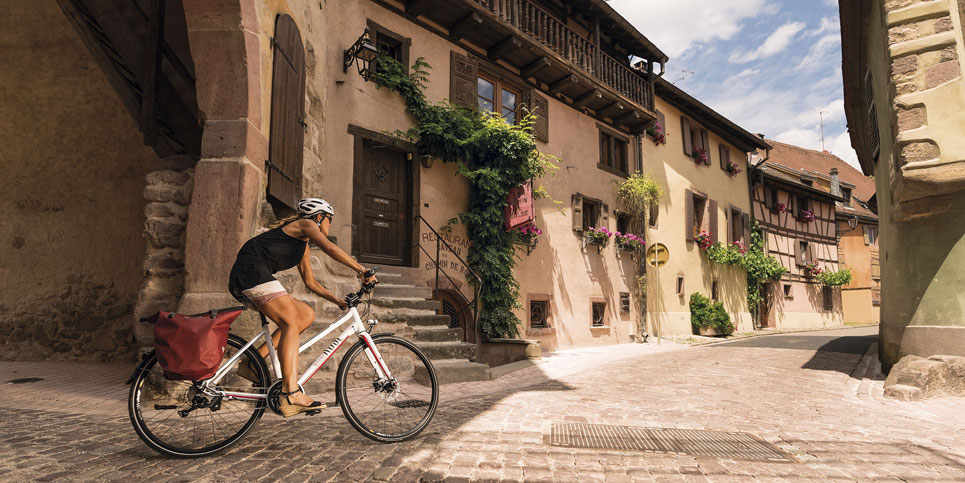 TRAINING ON THE BIKE, AT ANY TIME
Fitness bikes keep you fit. And what could be more pleasant than the wind blowing through your hair, on a bike, after a day in the office? That's right, there's nothing better! Cycling is the best way to leave the stress of the day behind and to recharge your batteries. Your bike is waiting at home, it wants to be ridden, taken for a spin, experience something and move. It is sporty and fast. You will clearly sense the experience that ROSE has in the field of road cycling. Frames, wheels, groupsets - on our bikes, you will find components that are also used in racing. You can confidently show up among the ranks of the road bike enthusiasts. However, these bikes are not just the ideal training partner, they are also universal companions in everyday life. You can equip them with panniers, lights and mudguards. Commuters and frequent travellers know that every minute cycling keeps you fit. When will you set out on your next journey?
There's no question about it, fitness bikes are made to ensure a proper workout. In order to be able to offer every amateur athlete and fitness enthusiast the right bike that suits their needs, we stock a whole range of different fitness bikes. Sometimes, the focus is more on practicality, sometimes the real desire for a road bike or a mountain bike wins out. And for those who cannot decide, there's probably a solution among our all-rounders.
Of course, ROSE also offers a wide range of fitness bikes to women who are into sport. These differ from the bikes for men, not only is the frame smaller, but the remaining components are also adapted to the female anatomy in order to achieve perfect ergonomics.
Even fans of 29-inch wheels will get their money's worth with the fitness bikes. And those who do not yet know about them will likely soon be delighted by the incomparable smoothness of large tyres. The ingredients for sporty handling lie at the heart of each of ROSE's fitness bikes. This is because our goal is that you come back from the next journey on your fitness bike exhausted, but happy, and excited about the next tour.
17 produkty
ilość produktów na stronie
first
prev
1 / 2
last
next
17 produkty
ilość produktów na stronie
first
prev
1 / 2
last
next