Cross country
Rowery Cross - rowery MTB do wyścigów i na trening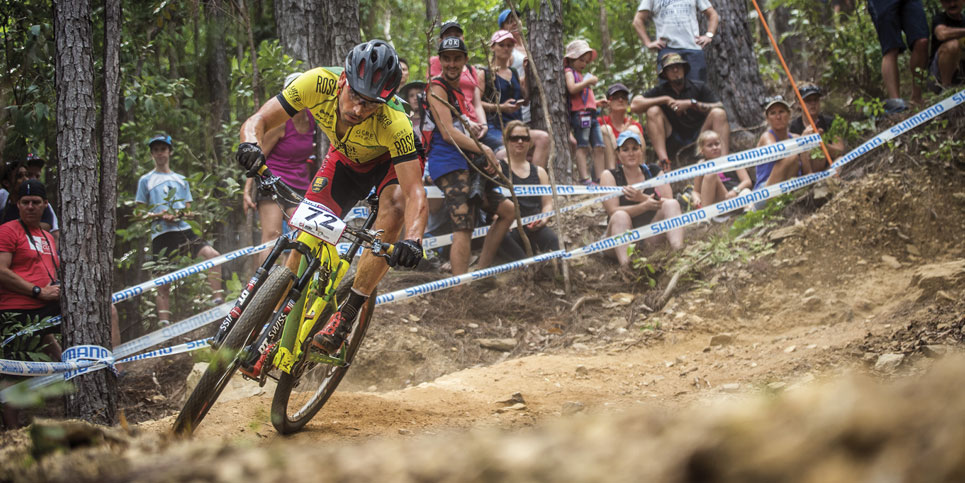 ESENCJA KOLARSTWA GÓRSKIEGO
Cross country to nie tylko wyścigi. Cross country to korzenie kolarstwa górskiego i jest istotą sportu. Twoje serce bije szybko, a nogi cały czas kręcą. Krajobraz szybko się przesuwa, a oczy koncentrują się na ścieżce. Szukasz najszybszej i idealnej linii prowadzenia aby żaden korzeń cz kamień Cię nie powstrzymał. Kierujesz precyzyjnie rowerem co do milimetra, wyczuwając prędkość. Odkryj świat – czy na hardtailu czy na fullu – zabierz go na łono natury, ciesz się aktywnością i czuj, że żyjesz.
Zadecyduj czy wybierasz rower na kołach 27,5" czy 29". Każdy jest inny i ma różne preferencje. Koła 29 cali dają prędkość, przyczepność i najlepiej pokonują przeszkody. Koła 27'5" dają lepszą zwrotność i przyspieszenie. Rowery cross country są skonstruowane po to, by zwyciężać – w zawodach lub ścigając się z samym sobą. Nawet podczas relaksujących wycieczek nie jest trudno od czasu do czasu pojechać z pełną prędkością. Te rowery dosłownie ciągną Cię naprzód, pragną byś mocno naciskał na pedały i czuł wiatr we włosach. Zbudowane są by jechać szybko i ścigać się w terenie, są lekkie, szybkie i wszechstronne. Nie musisz brać udziału w zawodach by poczuć ich siłę – jazda na łonie natury na szerokich oponach z bieżnikiem fascynuje w równym stopniu początkujących i zaawansowanych.
Wysokiej jakości rozwiązania, lekkie i zwrotne ramy, sztywne zawieszenia – to składniki do szybkiej jazdy w terenie. Dokładnie to, do czego budowane są rowery cross country, wydajne, mocne i wytrzymałe. Obojętnie czy wybierzesz hardtaila czy fulla, wyposażonego w karbonowe komponenty i jadącego na kołach 27" lub 29". Rowery cross country ROSE oferują idealny przepis na prędkość, którą doświadczać mogą wszyscy. Ci, którzy uwielbiają prędkość i radość z jazdy po polnych drogach, czy preferujący trening na łonie natury, znajdą w naszych rowerach idealnych partnerów na długie godziny jazdy.
16 produkty
ilość produktów na stronie
first
prev
1 / 1
last
next
16 produkty
ilość produktów na stronie
first
prev
1 / 1
last
next