Rowery ścieżkowe
Rowery ścieżkowe – trasa jest nagrodą!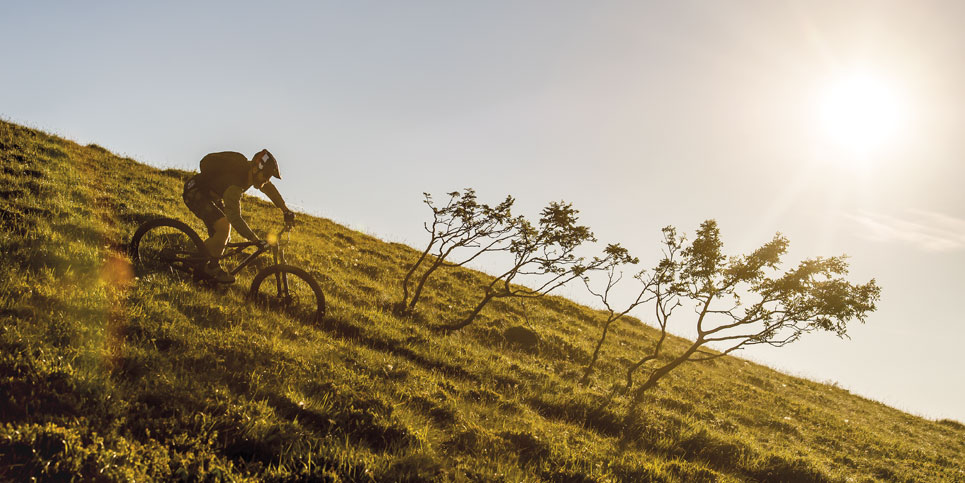 ZABAWA W ALL-MOUNTAIN DLA KAŻDEGO
Rowery ścieżkowe to posiadające pełne zawieszenie, wszechstronni geniusze wśród rowerów górskich. To istota jazdy po górach, swobodnej jazdy na łonie natury, czysta przyjemność z wycieczek. Mają szeroki wachlarz możliwości: skok zawieszenia jest dostateczny by opanować zjazdy na trudnych zjazdach i są na tyle lekkie by także szybko podjeżdżać. Stąd oferują dobrą kombinację świetnych właściwości jezdnych co podoba się bardzo dużej liczbie jeżdżących po górach. Rozwój ścieżkowców idzie ręka w rękę z rozwojem sportów MTB. Wprowadzenie fulli podniosło jakość roweru górskiego na inny poziom. Nagle cały świat stanął otworem i wszystko jest możliwe. Nieprzejezdne wcześniej trasy stały się dostępne.
Obecnie zaawansowane technicznie systemy tylnego trójkąta czytają podłoże niczym sejsmograf aby pozwolić na ciągły kontakt kola z podłożem. Pod górę systemy są neutralne i wydajne aby nie tracić mocy. Te rowery to w rzeczywistości małe zjazdówki udające rowery turystyczne. Rowery, które umożliwiają prawie wszystko, o szerokim spektrum zastosowań. Czują się świetnie w ciężkim terenie w Alpach, na ścieżkach położonych na wyżynach i na dobrze znanej trasie w sąsiedztwie. Nie ma znaczenia czy wybierzesz GRANITE CHIEF czy ROOT MILLER, możliwości są nieograniczone. Ale oba rowery są naprawdę całkiem odmienne.
ROOT MILLER ze skokiem 140 mm i kołami 29" zadowoli raczej jeżdżących na wycieczki, GRANITE CHIEF ze skokiem 150 mm i kołami 27,5" oferuje większą zwrotność i zrywność podczas zjazdów. W końcu ważne są osobiste preferencje oraz który z rowerów spodoba Ci się bardziej. Oba rowery można przystosować do swych potrzeb z naszym konfiguratorem. Możesz łatwo stworzyć swój własny rower, który przewiezie Cię przez góry bezpiecznie i zapewni niezapomniane wrażenia.
16 produkty
ilość produktów na stronie
first
prev
1 / 1
last
next
16 produkty
ilość produktów na stronie
first
prev
1 / 1
last
next